Danie Bester has been interviewed by Dudu Madonsela (the curator of the Bensusan Museum of Photography) for Photoworld Magazine as one of only 12 photographers to represent South African Photography in 2017. Photoworld has over a million subscribers as well as an audience in Spain and Argentina. The feature article is titled "Danie Bester: a Knight of photography as Art" and stretches over 8 full pages while showcasing some of his signature photographs.
Danie Bester: "A Knight of Photography as Art"
Interview by Dudu Madonsela for Photoworld Magazine
Photographer by Choice
Choices we have made in life help us to live a more fulfilled life far better than if we had to settle for the available and obvious options. Looking at Danie Bester's journey with photography, I am tempted to begin this article with that sentence.
Danie has a fairy-tale story, which many aspiring photographers will find encouraging. He started photography at the age of 35 while working as a Correctional Officer. Working for a government salary, he had to sell his second car to buy his first SLR Camera. According to Danie, who is a self-taught photographer, he developed an instant love affair with photography. Within 5 years after buying that first camera, at the age of 39, he voluntarily quitted his job as a Senior Correctional Officer to pursue a full-time career in photography.
Since then, Danie founded DPC | Digital Photography Courses, one of South Africa's foremost photography schools. If not teaching, Danie sells his work through local galleries and interior designers. In 2014, his work was featured in the "Collectors Guide to Art and Artists in South Africa". Within a decade, he has become a respected fine-art photographer and photography educator.
How is it possible that you achieved so much, in such a short period, and what training in photography and art did you receive?
In all honesty, any achievements I may have achieved were by the grace of God and an unfathomable desire to learn. I also worked extremely hard; there were times, even now, when I would spend up to 18 hours a day working and studying.
I have no formal qualification in art and I never went to school for photography. I learned by watching online videos, reading books, and persistently studying the work of the old masters and contemporary photographers. Photographers like Alfred Stieglitz, Robert Demachy, Ernst Haas, Saul Leiter, Hiroshi Sugimoto, Paulo Roversi, Sarah Moon, Todd Hido, Michael Kenna – all of them, including a vast list of others, inspired me. I am still learning from them.
Aah. It tells you have quite a lot of photography books in your possession?
Yes. By now, I've collected a mini-library – mostly second-hand books – of my favourite photographers. I prefer books with photos over academic ones. It is like having my own private collection of their work.
Give me background about your involvement with photography now (and the type of photography you have done so far)?
Over the years, I have experimented with many forms of photography. My early work involved portrait photography. I have done around sixty weddings until I officially quit wedding photography a couple of years ago. Because I teach various photography subjects, I get to shoot a broad spectrum of work as part of our course offerings. I also shoot commercial architecture and interiors from time to time, but my primary focus is Fine Art photography. Sometimes, I joke to my classes, that if you really don't know what you are doing, then call yourself a fine art photographer!
On a serious note, my initiation into fine art photography took place in 2010, when I had my first solo exhibition. Thereafter, I co-founded an art gallery with six other artists; two of us were photographers and the rest, painters. Through my involvement with other artists and art forms, as well as constant studying of the master photographers, my perception about photography as art, has changed over the years.
"My perception about photography as art, has changed" could you explain why do you think so and what is it that you would like to share with us about the "change" you mention?
There's a quote by Peter Adams that "Photography is not about cameras, gadgets and gizmos. Photography is about photographers. A camera didn't make a great picture any more than a typewriter wrote a great novel." This has become my motto, and I try to impress this on my students.
Being a photography educator, I witness daily how ignorant people are towards photography as art. So many people think that having a camera and understanding some of the technical aspects, makes them artists. It is sad that very few photographers go on to develop a proper visual vocabulary, a personal style and philosophy. I was like that too in the beginning; I jumped into the idea of "photography as art" prematurely.
My realisation that photography is art came later; after I bought a book "Camera Work" which featured works by artists from the Pictorialist movement. The photogravures in "Camera Work" was published by Alfred Stieglitz as a counter-movement against those who believed that photography was not art. Camera Work featured carefully designed images that were so very different than the documentary kind. Due to the Stieglitz influence and the work by the Pictorialists, photography was eventually accepted as an art form.
I also found inspiration from the paintings of William Turner and other prominent artists from the Romantic and Impressionist periods. Looking at their paintings, and at the long exposure photos of the Pictorialists, I thought they were so much deeper, moodier, and thought-provoking than the usual "pretty" pictures we often see. The intangible themes of silence and mood fascinated me so much. I decided to make them my themes too.
What are your favourite themes and subject matter?
My favourite subjects are landscapes, seascapes, urban architecture, and street photography. However, I am in search of beauty. I think beauty can be found anywhere and everywhere, so I wouldn't want to limit myself to a particular subject. Lately, I spend a lot of time shooting in Johannesburg. As you know, one of my latest projects involves impressionistic architectural photos of Museum Africa, including the Bensusan Museum of Photography. Looking at the pictures I have been shooting here, I think few people would recognise the location. For me the subject does not matter, but rather my personal artistic impression and interpretation of it. I am happy to shoot any subject if it relates to my philosophy and style.
Describe your personal style: what is it that makes you unique or different?
Albert Einstein said that "the secret to creativity is knowing how to hide your sources". No photographer should boast that their work is completely unique. Every one of the contemporary masters developed their aesthetics, philosophies, and techniques by finding inspiration from the old masters or other sources. I am the same. My style is not completely unique. There are so many photographers whose works look very similar to mine, or rather mine look similar to theirs! Obviously, I will have images that no one else has because the world is just so big!
Regarding my style and technique:
I am particularly interested in the more abstract forms of photography like impressionism and minimalism. I prefer creating images which depict energy, mood, and silence, which is a theme I am constantly exploring. To illustrate my themes, I mainly use long exposures, selective focus, and focus blur. For ultra-long exposures, I have a set of ND Filters, and for focus blur, I defocus the lens or use the tilt function of my tilt-and-shift lenses.
Lately, I am exploring shooting handheld long exposures with manual focus tilt-and-shift lenses. In some instances, while making an exposure, I deliberately move the camera to create motion blur. The main reason for using blur is that it adds so much depth and mood to the images. The fine surface details are blurred, while the overall forms and shapes remain. It is as if the quality and subtleties of the light are enhanced. The depth it creates, make the images seem transcendental and otherworldly.
Your images covered by this conversation mainly are captioned as "study".  Are you attempting to explore, or are you just passionate about creativity?
One of the reasons I often name my images "studies" is to indicate that I have put some thought into the creation of the images. The term "study" differentiates it from a mere snapshot.

Looking at some of your series, most of the pictures intend to create an imaginary situation. If yes, what are the reasons behind this?
The reason I fell in love with the photographs of the Pictorialists, and the paintings from the Romantic and Impressionist movements, was that their art omitted a lot of details while leaving so much for the imagination. It is about subtleties and soft nuances rather than sharp focus and details. It is as if you're looking up while walking or driving past a scene, and the only thing you can remember is that fleeting moment. You had a glimpse yet cannot remember all the details. All you remember is the lighting, the tones, and the mood.
This has become my goal: to keep the viewer's imagination occupied; let them make up their own stories when they view my work.
Diptychs are a brilliant tool for photographic storytelling.  What is the story behind Ballito Bay | Study # 05 (Quadtych)
The Quadtych you are referring to is a time-lapse series of four 10-second exposures that I photographed with a defocused lens of the same area in the sea. It shows how the ocean's surface is affected by the light over a very short period. Light and the ocean are the most dynamic elements of our planet. They change constantly. That is what I wanted to demonstrate.
Can you explain why you think the sea and light are the most dynamic elements of our planet?
The sea's ebb and flow are never the same. No wave looks exactly like another. It is the same with light: it changes constantly as the earth spins around the sun. The time of season, the ever-changing clouds… these affect the light. You can photograph the same spot on different days, at the exact time of day, and your photos will look different.
There are two different series of 'Interior Spaces', consisting of Colour Studies and Monochrome Studies.

What can you tell us about these series?
Colour study # 02 and 03 of your Interior Spaces series: How and where you did you take these two photographs?
Is there any message these series (Colour and Monochrome) communicate about your photography skills? Does it have any deeper meaning?
Both series are impressionist architectural studies of interior spaces. So far, I have only covered two locations: Museum Africa and Market on Main in Johannesburg. I am not yet sure which images will make it into a final collection or exhibition. My intention is to continue adding to the series over the next few years.
The reason I present the bodies of work separately, in colour or monochrome, is simply about aesthetics. Colour brings a lot of energy, while black and white is the ultimate form of simplification.
The two colour-studies that you refer to, were shot at Museum Africa in an empty exhibition hall. Both are handheld, long exposures where I defocused my tilt-shift lens and moved the camera deliberately during the exposure.
I have no ulterior motives with this series, except to show how mundane and ordinary interior spaces can be transformed through artistic impression.
From what I could gather from you, it sounds more like you have a long-term vision about the theme "Interior Spaces" What could be your intention?
Most of my projects are long-term and I have just started with this body of work. I am still going to explore and incorporate new ideas as I continue with it. I am obviously working towards having an exhibition of the work. At this moment, I cannot tell how many images, nor which ones, will make it into a final exhibition. Time will tell.
One of many definitions of the term 'duplicity "states that the term means contradictory doublings of thought, speech, or action. In your "Johannesburg | Visions in Colour Series," you have one of the images captioned as "Duplicity "Why?
The title is just practical. No hidden messages, but that it is about two elements. The two religious women walking past. The wall is one main element, while the women present another main element. Then there is also the extractor fan on top, with the peeled paint at bottom left; two more elements again.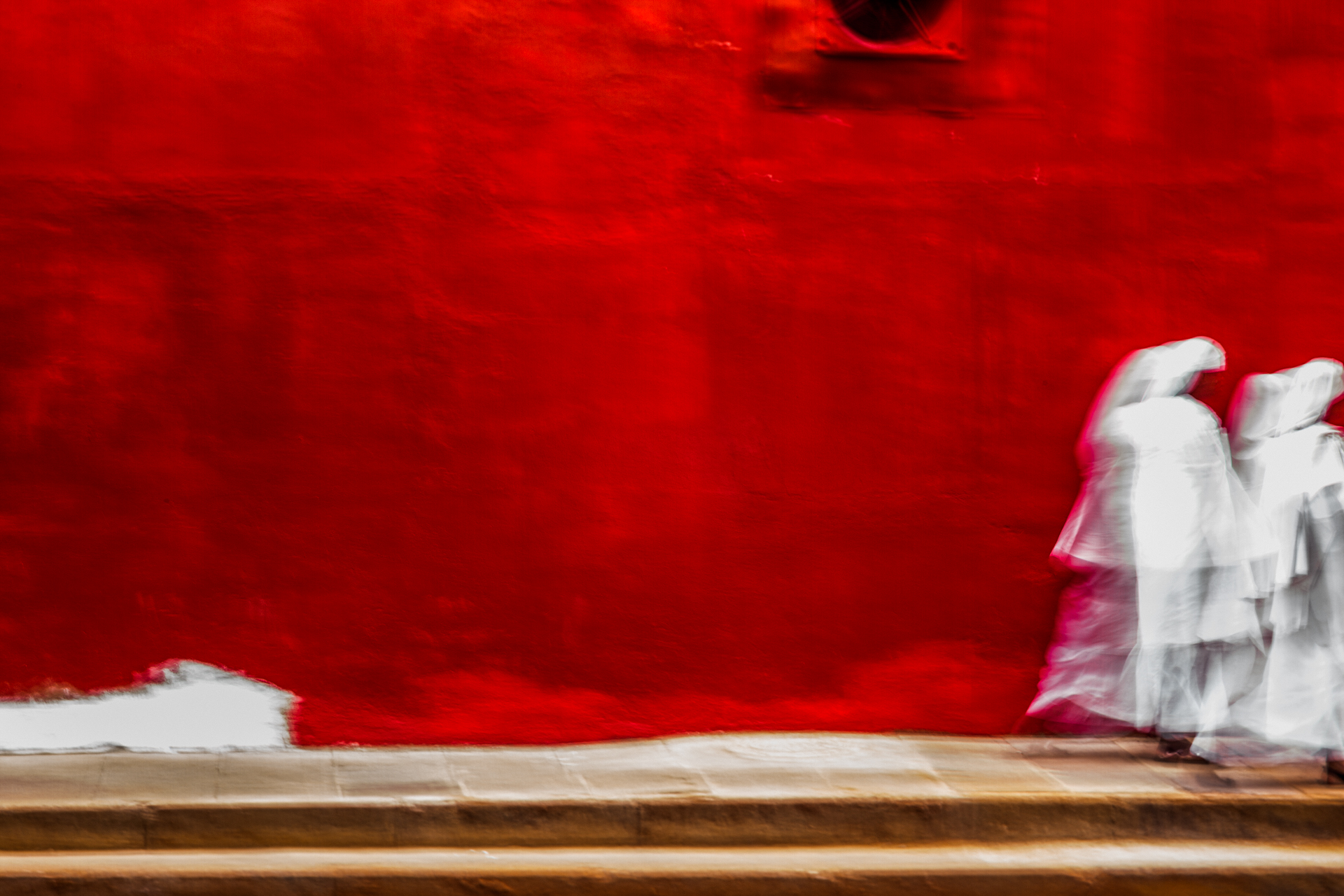 What is special or unique that you have introduced and achieved for yourself that you can say has benefited your surroundings and photography… And its relevance towards the upliftment of South African Photography?
Since 2010, in just over 6 years since I founded DPC, our photography school, we had over two thousand people who did Basic to Intermediate Photography Courses with us. Almost the same amount of people completed other workshops and creative classes. I, therefore, have a big audience and a sphere of influence to which I can convey the message of photography as art, or that photography can be art…
About
Photoworld Magazine, owned by Xinhua News Agency is China's most influential photography magazine and has been in existence for over 33 years.
Danie Bester is a South African born fine art photographer and photography educator.
Dudu Madonsela is an historian, and the curator of the Bensusan Museum and Library of Photography, situated in Museum Africa.
Museum Africa is a central hub of art, culture, heritage, and history housing six different museums of the City of Johannesburg, including;
The Bensusan Museum and Library of Photography
The Geology Museum
The Benberg Fashion Museum and Textile Collection of Museum Africa
Ethnology Collection
History Images collection
History collection